Mr Manoj Nair, VP – Marketing, Thomas Cook addressed the students on 'How to capture customers using the Blue Ocean Strategy'.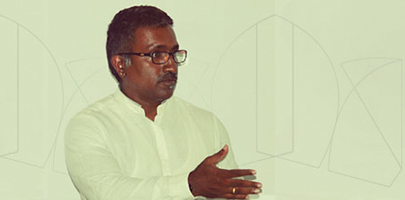 The oceans of our world, which make up a significant portion of our planet, are an example of the vast untapped potential resource. In the field of marketing, the vast potential for acquiring a higher customer base can be harnessed by following the Blue Ocean Strategy.
On 19th July Mr Manoj Nair, the vice president of holiday giant Thomas Cook's marketing division, addressed the students of TAPMI on Thomas Cook's place in the holiday segment and how to capture customers using the Blue Ocean Strategy.
thomas cook collageMr Nair commenced his lecture by mentioning Richard Branson's spaceship travel. He went on to highlight the market opportunity in India using numbers on population, passports issued and overseas holidays along with qualitative information regarding the shift in values from traditional to modern.
He then explained certain aspects of the travel and holiday segment, which is very seasonal. He explained the major role which advertising plays in this sector. With the advent of technology, it has become easier for potential travelers to compare and contrast deals of various holiday packagers in a few clicks using Makemytrip, Yatra, Goibibo etc. Since every company in this space advertises extensively, he feels that the market is cluttered.
Extending the blue ocean strategy which involves both product differentiation and cost effectiveness simultaneously to this segment, Mr Nair proposed a one of a kind holiday plan involving a 'one product for a destination' concept. Niche segments such as photography and wildlife can add to the unique aspect. To pave way for the 30% household saving into this strategy, he suggested promoting savings with a holiday goal in mind, engaging with a banking partner and a hospitality partner. However, shades of red in the form of entry barriers pertaining to arrangements with third parties need to be overcome.
Ending on a positive note, he mentioned that going on a holiday now is much more economical than going on a holiday in the future.